Sorry folks. It's been a long time since my last post. So many things happened in 2020. We all have experienced Covid in some way. I went through that as well as getting a hip replaced. I had my struggles and through music I survived the recovery. 
Taking a trip down memory lane is what I'm currently doing. Specifically I am on a search for two 45s. I collect records so that's what I am referring to. But these two tiny little records mean a lot to me. When I was a kid I had a fisher price record or something slightly better. I can't remember. But I did come across many records as a kid. Ones my parents had in their collections and ones I actually bought from a record store with allowance money.
One of them was by Bruce Springsteen. The single was "I'm on fire." I played that one many times during my elementary school years. There was just something nostalgic about playing that song over and over again. The other 45 was by Madonna. Her single was "Crazy For You." I believe the song was featured in the movie VisionQuest. However, that isn't how I first heard it. Probably was just on the radio. It was either at a Sam goodie or even a Kmart where I came across these two tiny little records. I don't remember what the B sides were but I'll look that up and post it in the comments below.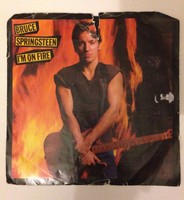 During the course of life things come and go. I have no idea what happened to those records but they vanished from my existence. But those two meant the most to me and now I'm on the hunt to replace them. Sure I could probably go online and purchase them for a lot of money but I would rather just go into various record stores and fish through the 45s until I find them. I love scavenger hunts and the journey itself is the most fun. Sure I can play those songs on my iPhone or go on YouTube or whatever but to have two physical copies in my possession again will be pretty sweet.
Being 10 years old and hearing those two songs on my little record player just worked its magic into my brain and provided peace and comfort to my ears.
So I ask my blog readers what their favorite vinyl treasures are. There are lots of them out there. Just curious what everyone else is searching for or holds near and dear to them from their childhood. After all these months this is what I have chosen to write about here at my website. Thanks for reading and always listen to music.